Below are a few examples of recent installations.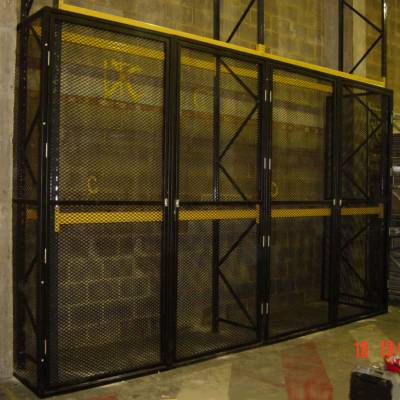 Secure pallet storage at a handling depot Heathrow Airport
We can make security cages to go around racking and shelving, all we require is the dimension of the racking. The panels are made with cut outs to go around the racking.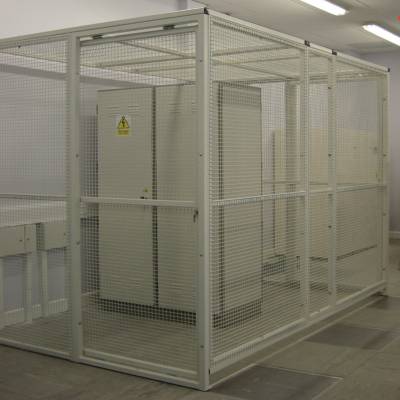 Server security enclosure with sliding doors
A data handling center for a main motorway control and communication systems
The cages can be fit around existing machinery. If it is a data centre it may be necessary to provide underfloor meshing below the floor tiles. This is done on site as often the wiring and trays can be complex. It is done using a weld mesh which is screwed to the legs of the raised floor. A sliding door is less secure than a hinged door but is useful in areas of limited space.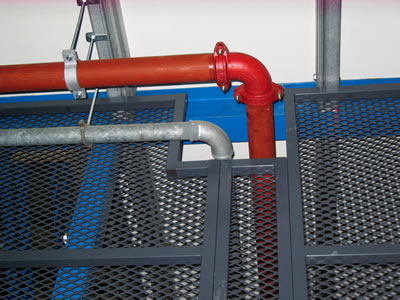 We can allow for all types of pipe work no matter how messy it seems. In this very simple case a Framed U cut out was required to allow the pipes out the cage.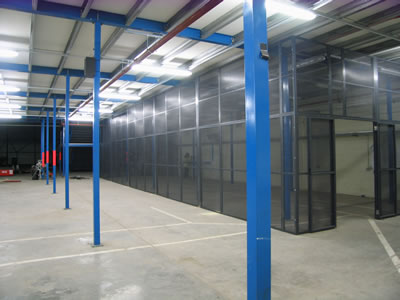 We can make the cages to any height. The standard height of panels is 2.44m. In this case the the second row of panels were installed using a scissor lift. The cage is strengthened using 100mm wide full height support posts every 3 panels.

Customs and Excise isolation cage
Non standard lock. In this case a hasp was requested to accept a padlock. For Standard locks the frames are pre laser cut to accept a cylinder.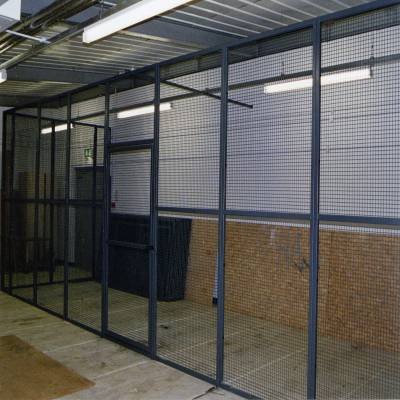 This is a typical partition giving secure storage, useful for many applications. This particular installation was used for sports equipment in a new school.
This partition (1 of 4) sections off a loading bay in a busy computer distribution center, preventing casual access to the stock area.
It is possible to have long runs which can be supported either with legs or we can use a thicker support post within the framework.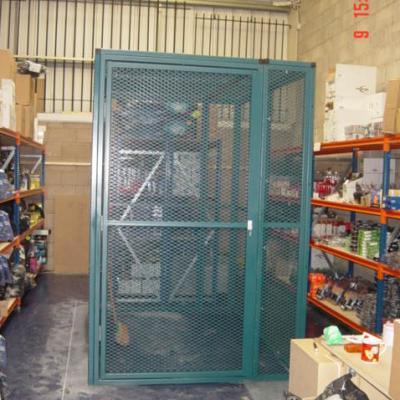 A small valuable stock Cage in a camera accessory shop,
Cages can be fitted into most location and can reduce insurance premiums when protecting valuable stock such as small electronic equipment.
You can choose a powder coated finish in any british standard colour.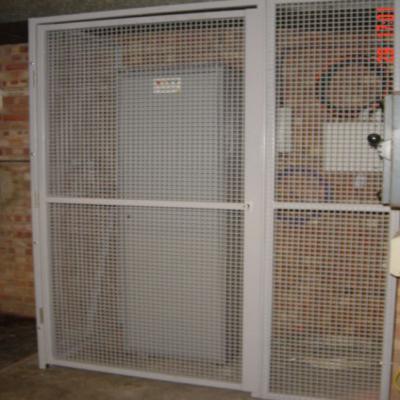 A small secure storage cage for an underground server in central London.
We have 100's of variations on this type of installation all over the country in all major cities of the UK and export to Europe.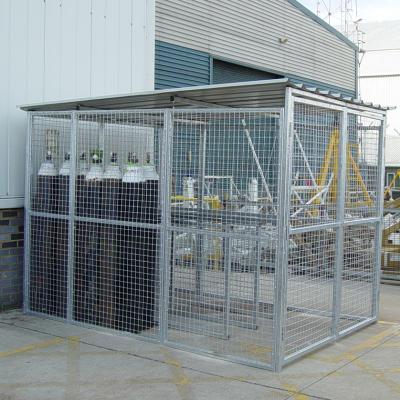 Luton Airport Gas bottle storage cage all fully galvanized after manufacture.
This is a custom made cage due to being a non standard size, in most cases one of our stock gas bottle cages would suit as they are a lot cheaper.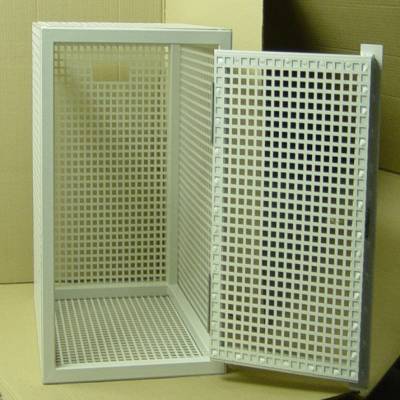 Small individual tower cage for non standard equipment.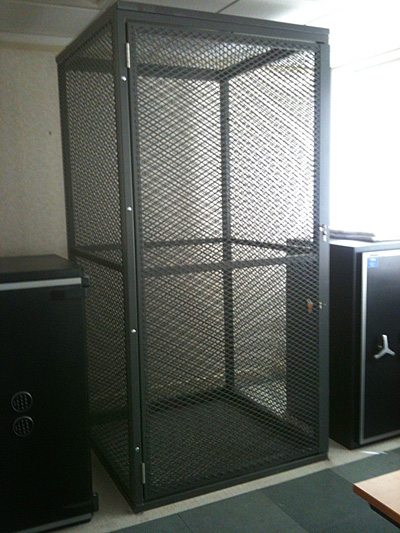 Above is a ssec1 security cage 4ftx4ft x8ft high with an expanded metal infill, powder coated in black.